The price of Bitcoin is currently trading at $30,628, reflecting a nearly 0.50% increase on Wednesday.
As the market awaits the release of June inflation data, the cryptocurrency market remains on "standby" to assess the potential impact on Bitcoin's performance.
Notably, five Bitcoin ETFs have been re-filed by Cboe, incorporating Coinbase surveillance agreements, adding to the growing interest and potential developments in the cryptocurrency market.
Crypto Market on Standby as June Inflation Data Release Approaches
US inflation is projected to decrease to its lowest level in over two years in June, but persistent price gains for "core" products and services suggest that the Federal Reserve is likely to proceed with raising interest rates.
Economists anticipate the consumer price index to moderate to 3.1%, the slowest rate since March 2021.
This could lead to increased expectations of the Federal Reserve's tightening monetary policy, which may impact Bitcoin's performance as investors assess potential changes in interest rates and inflationary pressures.
Anticipating BTC Price Growth Amidst Rate Slowdown: Insights from Bybit's Head Financial Engineer
Ether Chen, the head financial engineer at Bybit, believes that the market is seeking indications of price growth for BTC after a slowdown or cessation of rate increases in the latter half of the year.
Chen anticipates a potential rebound in the market price in the fourth quarter, although a full-fledged bull market may not materialize until 2024.
This scenario would require a halt in rate increases, a significant correction in BTC, and a resolution of regulatory uncertainties.
Despite these expectations, Bitcoin has maintained a steady position at around $30,000, showcasing a remarkable 100% increase since the start of the year.
Notably, Bitcoin has demonstrated resilience in bearish market conditions, suggesting that seasoned traders may have capitalized on its performance.
The ongoing surge in Bitcoin's value can be attributed to the anticipation of future price growth, as highlighted in the news.
Investors may note the projected market rebound in the fourth quarter and the potential for a bull market in the coming years.
This optimism, coupled with Bitcoin's impressive performance thus far in 2022, has likely contributed to sustained interest and demand, further fueling the upward momentum in Bitcoin's value.
Cboe Re-files 5 Bitcoin ETFs with Coinbase Surveillance Agreements
The addition of a surveillance-sharing agreement (SSA) between Cboe Global Markets and Coinbase has had a positive impact on the value of Bitcoin (BTC).
This strategic move demonstrates a strong commitment to regulatory compliance and investor protection, aligning with the SEC's requirements to prevent fraudulent activities.
The involvement of Coinbase as a regulated market with significant trading volume further enhances the credibility of Cboe's Bitcoin Exchange-Traded Fund (ETF) applications and strengthens the legitimacy of BTC.
The resolution of terms between Cboe and Coinbase signifies progress towards potential ETF issuance, which has the potential to attract institutional investors and drive further adoption of BTC.
Despite Coinbase's ongoing litigation with the SEC, the market perceives the collaboration between Cboe and Coinbase positively, leading to increased investor confidence and enthusiasm.
Bitcoin Price Prediction 
Bitcoin is currently demonstrating a bullish trend, with its price hovering around $30,780.
Although it faces resistance near the $31,000 level, it has managed to stay slightly above it, particularly around $31,500. Notably, there is strong resistance around the $31,350 mark.
A successful breakthrough above this level could propel Bitcoin's price towards the next target at approximately $32,500 or potentially even higher, around $34,150.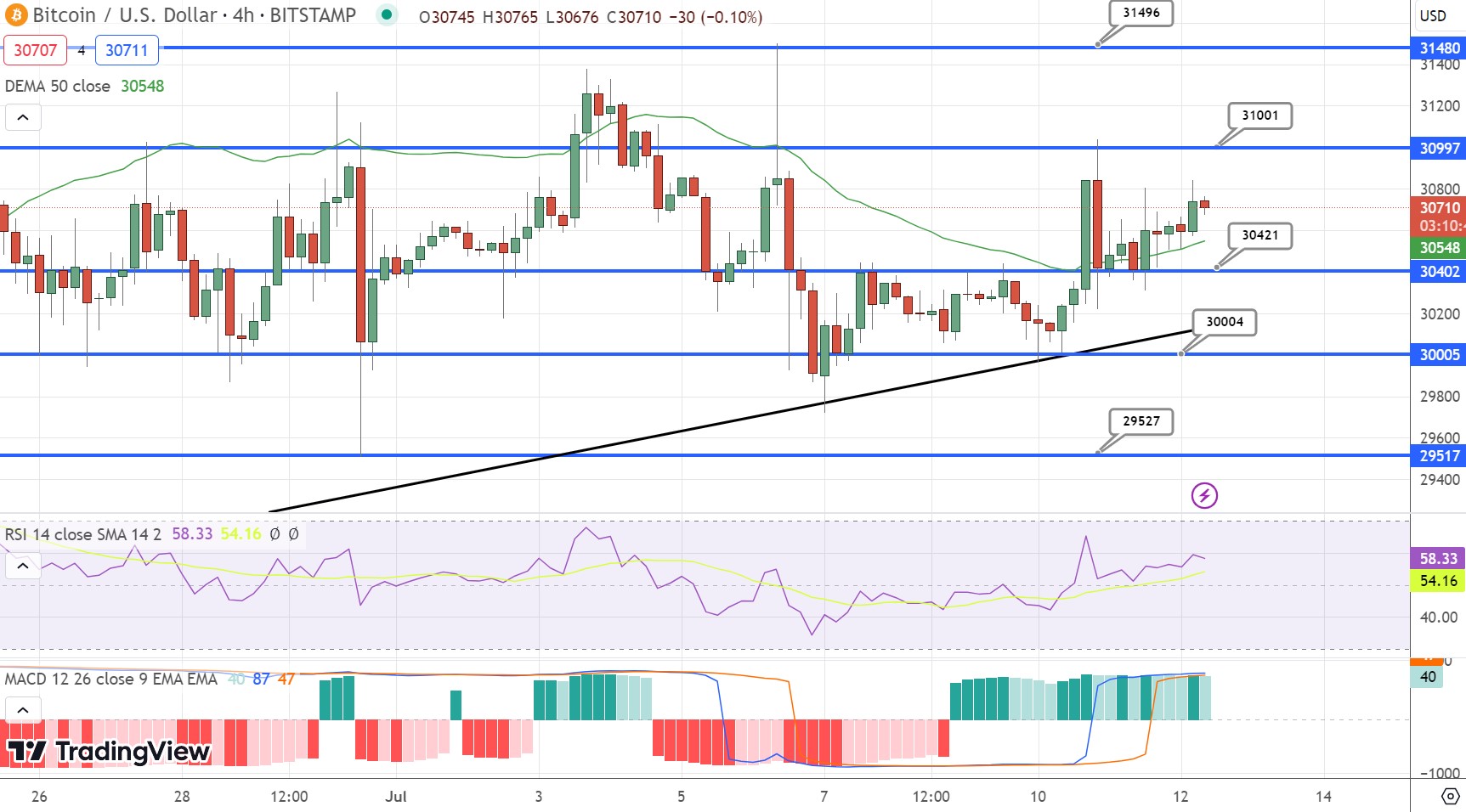 On the downside, Bitcoin has immediate support levels to consider. Possible support can be found around $30,300 or potentially around $29,650.
If the price breaks below the $29,650 level significantly, it may lead to a decline towards $28,650 or even lower, around $27,900.
Therefore, it is crucial to closely monitor the $31,000 level as it can provide a significant indication of a potential buying opportunity in Bitcoin.