The unmoved supply of Bitcoin (BTC) reached an all-time high in June, with nearly 70% of the circulating supply not moving for a year, a report from asset manager Ark Invest has said.
The report, titled "The Dawn of the ETF Era?" focused on the potential for a new spot Bitcoin exchange-traded fund (ETF) to bring new momentum to the Bitcoin market, while also pointing to on-chain data as a catalyst for price appreciation going forward.
In particular, the steadily rising share of the circulating BTC supply that is in the hands of long-term holders confirms that the holder base is "strengthening," according to the firm.
It added that with nearly 70% of coins held for at least one year, long-term holders' share of the Bitcoin pie has now reached an all-time high "both in relative and absolute terms."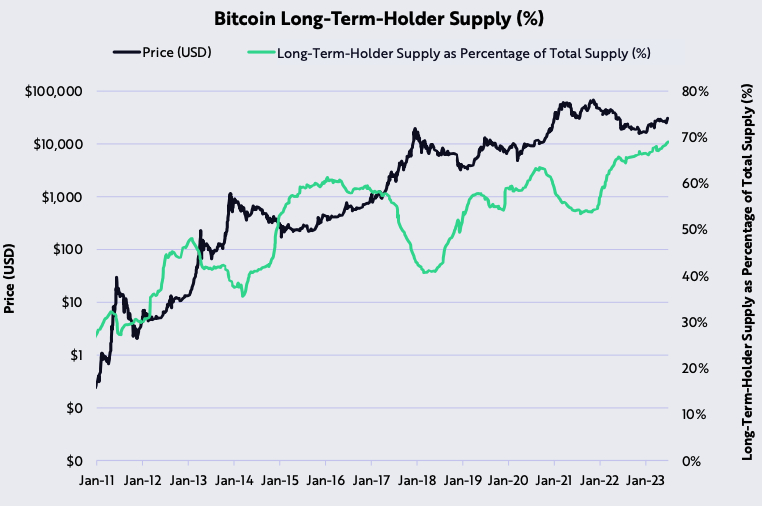 Increased institutional interest
According to the firm, the bullish sign from the long-term holders come as more financial institutions are showing an interest in the number one cryptocurrency.
Notably, BlackRock, the Wall Street giant known as the world's largest asset manager, last month applied to list a spot Bitcoin ETF along with other large asset managers such as Invesco, Fidelity and WisdomTree.
Each of the firms hope to be the first company to bring to market an ETF backed by spot Bitcoin rather than Bitcoin futures, a development that is also believed to push Bitcoin price to new highs.
Up until now, all attempts at listing a spot Bitcoin ETF have been rejected by the US Securities and Exchange Commission (SEC).
GBTC discount closing
Meanwhile, another notable development in recent weeks has been the closing of the discount to net asset value (NAV) of the Grayscale Bitcoin Trust (GBTC), an investment vehicle that has been used by investors to gain exposure to Bitcoin in the absence of a true spot Bitcoin ETF in the US.
Grayscale has for a long time wanted to convert GBTC to a spot Bitcoin ETF to eliminate the discount it is trading at, but the SEC has so far rejected all attempts at doing so.
However, with BlackRock's ETF filing bringing new optimism to the market that an ETF could be approved, investors have also flocked to GBTC in the belief that a conversion will be approved, and that the discount will be eliminated.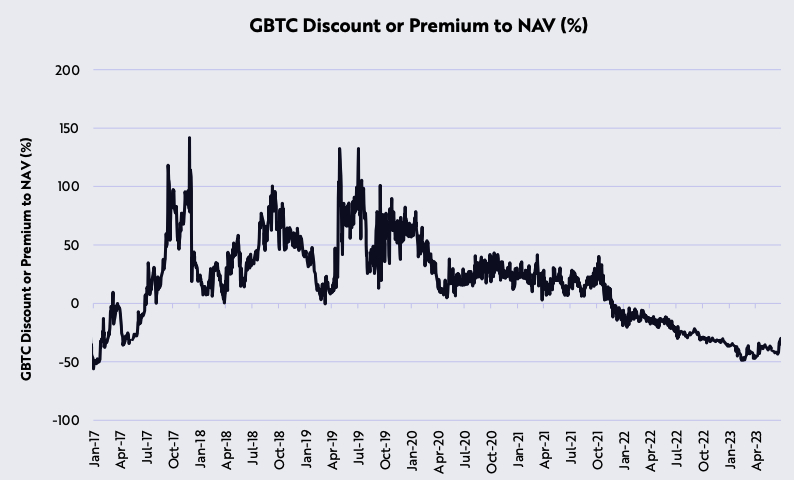 Ark Invest is led by the well-known technology investor Cathie Wood, and the firm is heavily invested in Bitcoin and companies working in the crypto industry, including Coinbase.
In mid-March, the firm raised more than $16 million for two new private crypto funds.